Moonray Dual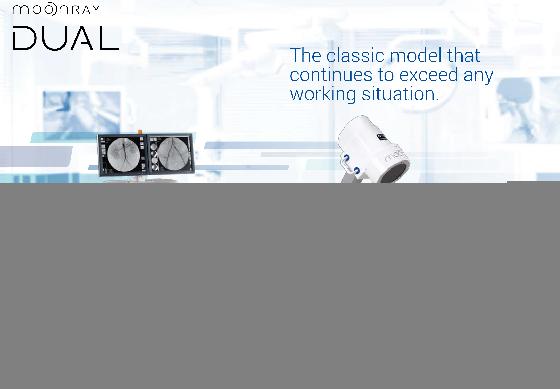 Mechanics meets ergonomics
The ergonomic and structural planning and study led 
to the creation of a structure equipped with superior 
handling qualities and ease in positioning
The extraordinary counterbalancing and friction 
control of the "c", offer great possibility of 
positioning and movement in any direction.
DETECTORS FOR ALL NEEDS
Wide and free choice between the latest 
powerful Active CMOS flat X-Ray detector
technology and the classic reliability of 
the image intensification technology
1K x1K DIGITAL VIDEO CHAIN
Perfect integrations of 1kx1k matrix 
quality and digital quality of 19" TFT color 
monitors 1280x1024 pixel resolution 
with high brightness and contrast
DIFFERENT POwER
GENERATORS
The best power range to cover any 
type of performance needed.
18 12 4
INTEGRATEDLIQUID
COOLINGSYSTEMS
ilX and ilXPlUS are our liquid cooling 
systems completely separated from the 
device's main electrical wiring, specifically 
designed for the Moonray Systems' range.